Hi! My name is Mister Gaijin! I do not live here, I am visiting! I came to play and have fun. I like lights.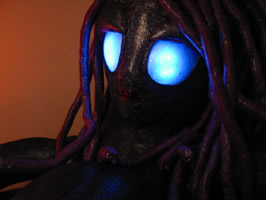 I have lights in my eyes, and more lights in the tips of my stylin dreds! They are not hair extensions. They are real.
My fingertips glow in lots of pretty colors. See?
I like hanging, and chillin. Nomsain?
AAAAAIIIIIGGHHHH!!! That light is much too bright. Please turn it off!

When I panic, my eyes change colors. And they flash a lot.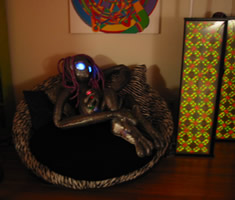 Ahhhh. That's better. Thank you. Bye!
p.s. BIG NEWS!!!! I just had a baby!
---
how to order
Mr. Gaijin is not for sale, but we can create similar beings to your specifications. Please see our custom orders page, or contact us for more information.
---