Well, maybe Mister Gaijin is actually Ms. Gaijin. He/she/it has spawned a baby alien!
Here's a sneak peek at the little one (please forgive the gory photos ... it was a long and difficult birth).
| | |
| --- | --- |
| | |
| human takes probe revenge on alien! | the baby has his mother's/father's eyes, and tiny light-up dreds. |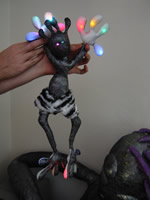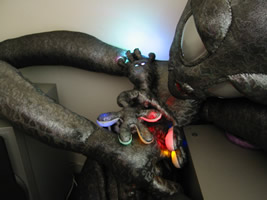 Some of the baby alien's cousins made a music video! rawk on ...
---
how to order
Please see our custom orders page, or contact us if you'd like to be notified when more of these creatures become available.
---