black bear jamboree dresses
Enlighted made seven of these lighted dresses, in assorted pastel colors, for the Black Bear Jamboree dinner and show theater in Pigeon Forge, Tennessee.
front and side views of the dress in dark and moderate lighting
Each dress has a silver base fabric, with about 200 white LEDs embedded within the skirt, bodice, sleeves, and hood. The pastel-colored organza overlay diffuses the light for a starry effect. White fur trim adds a holiday touch (these have been part of their Christmas show for several years).
full views of the front, side, and back of the dress in moderate and dark lighting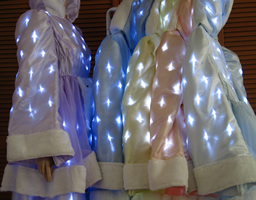 Please see their website, http://www.blackbearjamboree.com/black_bear_show.html for more information about the show. (link will open in a new window)
---
how to order
We do not carry dresses like this in stock, but we can do all of the custom sewing (as we did for this project), or we can install lights in a dress or other garment that you send to us.
Please see our custom orders page for pricing guidelines, or contact us for more information.
---