Our high-quality lighted bow ties are made to order, in a variety of colors and styles. The lights fade up and down in a variety of soothing patterns ~ nothing too extreme, since this is a bow tie, after all.
Each tie is powered by a small stack of coin cell batteries (two CR2032 cells) within the tie, which can be replaced as needed, typically after 10-15 hours of use. A pushbutton on/off switch is also included in the design, making it easy to decide when you're "on".
| | |
| --- | --- |
| | |
| | red bow tie with four red LEDs, black bow tie with six blue LEDs |
| Quicktime movies with sample animation: clip 1 (3.4 MB) - clip 2 (2.4 MB) | Sample animation of red tie: clip 3 (700 KB) |
We use pre-tied bow ties with an adjustable neckband. This allows us to create a small pocket for the batteries, and ensures that the electronics will not interfere with the proper bow tie shape.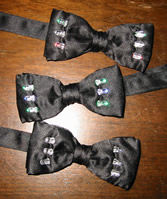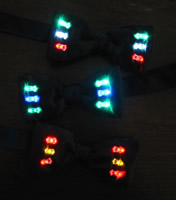 black bow ties with six lights each, in various color combinations
---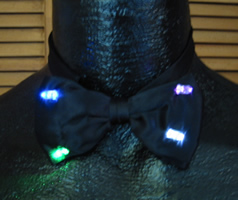 lighted bowtie with four different colors of lights (blue, green, purple, and white)
bowtie with matching cummerbund, closer view of cummerbund
---
white bowtie with 6 LEDs (red, white, and blue)
---
at this event, all of the male guests were wearing Enlighted bow ties!
---
how to order
Many of the lighted bowtie designs shown here are available on our page for ready-made orders. Fabric colors include black, white, red, pale pink, green, and royal blue. LED colors include red, gold, green, blue, violet, and white.
Custom fabrics and lighting options are also available for an additional charge. You can send your own bow tie (or tie and cummerbund set) to have lights added, provided that the bowtie is the permanently tied type. Please see our custom orders page for more information.
---