---
rainbow bra with sequins, lights in grid pattern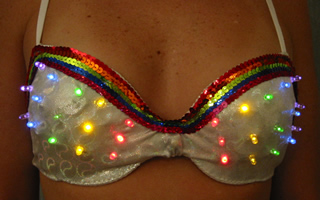 Now that LEDs are available in all colors of the rainbow (including purple), we thought we'd make a bra to celebrate! This bra has a silver/white hologram base fabric, and is decorated with 30 red, gold, green, blue, and purple LEDs. Rainbow stripes of sequins across the top complete the effect.
detail and side view
---
silver bra with 32 rainbow lights (circular pattern)
---
silver bra with 24 rainbow lights (circular pattern)
This outfit was featured on TV's Ripley's Believe It Or Not!, and Control on Univision, and combines silver hologram fabric with rainbow-colored lights. The bra and belt are lit up, and shown below with matching hotpants and a jacket with fluffy white trim.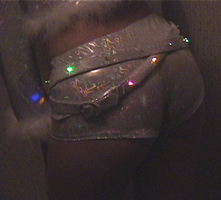 ---
red, white and blue bra with lights in circular pattern
Here's a way to create "fireworks" on your chest, in a festive red, white and blue design that uses 20 LEDs.
---
silver bra with 32 blue and white lights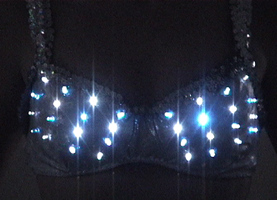 This bra has 32 blue and white super-bright lights, mounted on a silver/white hologram fabric with silver sequin trim across the top. The lights are arranged in a symmetric grid, and are activated in a variety of dazzling patterns.
---
how to order
The bras shown on this page are examples of previous custom orders. We can make replicas of these designs, and will also create new designs by request, if you'd like a particular light layout or color combination.
Pricing and availability are subject to change, please see our custom orders page for more information.
---