We've created a variety of bras where the LEDs are turned sideways to illuminate a lace covering or a row of ruffles.
---
lace-covered bra with purple LEDs
This bra contains 20 purple LEDs, arranged in two closely spaced rows of 10 lights each. Each row runs through our regular animated bra pattern, but the lights move in opposite directions for a greater variety of effects.
Video clip with sample animation
a few examples of this bra being blended into an outfit, with a sheer shirt and jacket or a low-cut top
---
black bra with ruffles and red LEDs
This bra is part of the red corset dress. It is intended to be worn under the corset top, with the ruffles extending upward at the bustline. Bright red LEDs are mounted at the base of the ruffles, creating a sophisticated diffused glow of red light at the neckline.
still and animated views of the black ruffled bra in dim lighting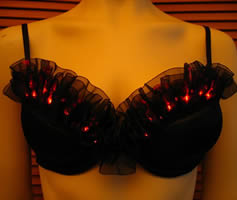 black ruffled bra in bright lighting
close-up views of the lights in the ruffles
Video clip with sample animation
ruffled bra worn with corset and matching skirt (see also this page)
---
how to order
The bras shown on this page are examples of previous custom orders. We can make replicas of these designs, and will also create new designs by request, if you'd like a particular light layout or color combination.
Pricing and availability are subject to change, please see our custom orders page for more information.
---