Feathers are an attractive way to achieve a subtle diffused light effect, while also hiding the LED light sources and circuitry. Enlighted has made a variety of bras with feather trim, as shown below.
---
marabou-trimmed bra with 10 lights
This bra design, which we've made in several colors, has 10 LEDs concealed within a strip of feather marabou trim across the top of the bra.
The lights fade up and down, back and forth, in a variety of soothing patterns. See these video clips for samples of the animation: (clip 1), (clip 2), (clip 3)
Each bra is powered by a single 9V battery, held in a pocket in the side of the bra. The on/off switch is mounted on top of the battery snap connector, and can be felt through the fabric if you want to control the lights while you're wearing the bra.
---
deluxe pink marabou bra
This pink bra is decorated with 30 LEDs (10 each of red, white, and pink in rows) and completely covered with pink marabou feather boa trim. A matching lighted thong is shown here.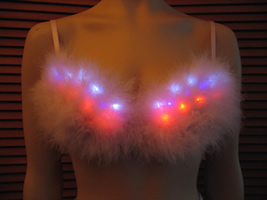 Video clips with sample animation: clip 1, clip 2, clip 3
---
red feathered bra
This bra contains about 30 red, orange, and gold LEDs that flicker in a flame-like pattern behind a layer of red feathers.
views of the red feathered bra in bright and dark room lighting
a red and gold belt was created to match the bra - see our belts page for more info
Video clip with sample animation: clip 1
---
how to order
The bras shown on this page are examples of previous custom orders. We can make replicas of these designs, and will also create new designs by request, if you'd like a particular light layout or color combination.
Pricing and availability are subject to change, please see our custom orders page for more information.
---