burghman superhero costume
This Enlighted costume, made for Burghman, includes a customized light-up cape, shirt patch, helmet, wristbands, and shoes.
Who is Burghman? The reigning superhero of Pittsburgh, PA, of course! He juggles, roller-blades, and spreads his positive message throughout the city. You can learn more about him on his website, www.burghman.com.
Burghman is such a fan of light-up clothing that he keeps coming back for more. Some of the pictures below represent multiple versions of the pieces in his superhero wardrobe.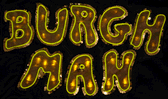 Original roller-blading helmet with a stripe of gold LEDs, flashing in a sequenced pattern down the center of the helmet. Yellow EL wire is used to write "Burghman" in lights on each side of the helmet.
A second version of the helmet was made, with a combination of orange and yellow EL wire, and a more intense illuminated design.
Matching black wristbands with gold LEDs in version 1, and gold EL wire in version 2 (shown in the off and on states). More examples of wristbands and gloves are on this page.
---
how to order
Are you an emerging superhero looking for a way to enhance your visual presence? We can put your name in lights, and decorate any costume as you see fit. Check out our custom orders page, and contact us for a quote today!
---