lighted camisoles with removable lights
Enlighted has made lighted camisoles in various colors, with removable light panels that are attached at the top edge of the built-in bra. The lights shine through the outer layer of fabric.
These camisole-style tank tops are made with a high-quality 4-way stretch nylon spandex with a subtle wavy pattern printed on the surface. Each has a built-in bra, with adjustable shoulder straps and standard back closure that is hidden by the back of the camisole.
A row of LEDs is mounted within a flexible strip that attaches to the camisole with velcro, between the outer fabric layer and the built-in bra. The lights shine through the fabric, for a subtle magical effect, as they twinkle and fade back and forth in a variety of hypnotic patterns.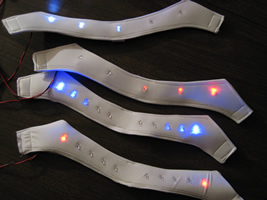 The lights are powered by a single 9V battery, which is held in a pocket under the arm. A pushbutton on/off switch is mounted on the top of the battery connector. While wearing the top, you can easily find the button and press it through the fabric, and turn the lights on and off at any time.
The lighted strips are easily removed, so that you can wash the camisole, or switch light colors and styles between tops. All lighted strips are interchangeable between camisole colors and sizes. Additional camisoles and light strips can be purchased separately.
A lighted camisole can be worn as a top by itself, or paired with something that will let you show off the lights, such as a sheer blouse, or a sweater with an open front or low neckline.
Video clips with sample animation: black top with 10 blue lights - black top with 10 red lights - black top with 10 white lights - red top with 5 red lights - red top with 5 white lights -
---
how to order
In the past, we have offered lighted camisoles on our page of ready to wear items, but we do not currently have any in stock.
We can create similar designs by request, if you'd like a particular size, light layout, or color combination. This style of installation can also be applied in other situations where removable lights are desirable.
Please see our custom orders page for more information about other custom designs.
---