Unlike dresses with "plain" sequins, this kind of evening wear will continue to sparkle when the house lights are dim, or even completely off. The twinkling lights will be visible to everyone in the room. People will stare. People will wonder. What's her secret? Where is she hiding the batteries?
We create light-up dresses for all kinds of occasions, including formal dances, costume balls, weddings, and New Year's Eve parties. Here are a few examples that combine vivid, shimmering fabrics with a variety of lighting effects.
Enlighted dresses have been featured in fashion shows in Las Vegas, San Francisco, Los Angeles, San Diego, and Atlanta.
---
white snowball dress - more info here
---
purple lighted skirt - more info here
The upper half of this dress did not have lighting, so we only have photos of the bottom half of this twinkling skirt made in collaboration with Elizabeth Courtney costumes.
---
enlighted wedding dress - more info here
---
red corset with ruffled bra and matching skirt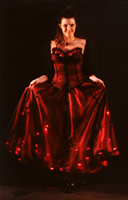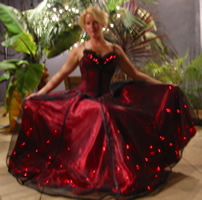 more info about the red dress on this page
---
silver corset dress
more info about the silver corset dress on this page
---
white corset dress
more info about the white corset dress on this page
---
purple dress with twinkling white lights
front view in bright and dim lighting, full view of dress, video clip with sample animation
---
blue evening dress with glowing skirt and "floor aura"
views of back, side and front
closer view of hem in bright and dim light, animated view
---
long white dress with glowing sleeves
more info on this page
---
high tech mini dress with pink EL wire and aqua LEDs
---
sequined 'mermaid' skirt with twinkling LEDs
more info here
---
how to order
Light-up dresses are available on a made-to-order basis. We can design the entire dress to your specifications (we recommend a live fitting in our studio for those projects), or we can add lights to one that you already have, if you prefer. Please check our custom orders page, and contact us if you have any questions.
---