---
siggraph cyberfashion show

---

4th Annual SIGGRAPH
Cyberfashion Show

Los Angeles Convention Center
Los Angeles, CA

August 3, 2005

This show continues to grow, and offers an impressive variety of wearable technology, including smart clothes, wearable computers, illuminated clothing, and other futuristic designs.

Janet Hansen of Enlighted served on the crew as Head Wardrobe Coordinator, and was largely responsible for combining the technical and non-technical pieces into full outfits, assigning them to models, organizing the overall order of the show, and trying to maintain sanity in the dressing room backstage.

Enlighted also participated by contributing several full outfits, including illuminated dresses and faux-fur coats with fiber optics. The "Bovine Rex" coat was co-designed and built by Brett Spivey, who served as Head Video Coordinator of the show.
Extensive press for the show included a segment on NPR and a front page article in Apparel News.
Edited video clip from part of the show, featuring lighted clothing by Enlighted: (MP4, 7.5 MB)
---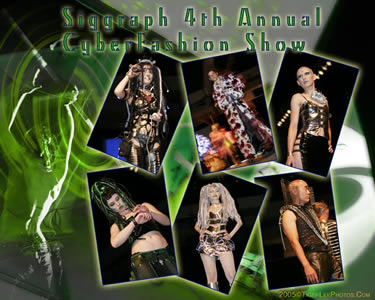 Tiger Lee photo
Group shot of various models with Psymbiote (a.k.a. Isa Gordon), MC and founder of the Cyberfashion Show (Masa Inakage photos)
---
Enlighted presented several faux fur designs in the show - please see this page for more info on lighted faux fur vests and coats.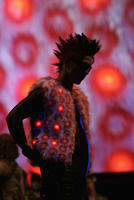 Karl Lang photo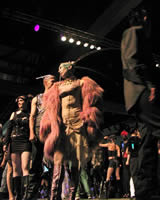 Troy Gardner photo
Alex Kawas photos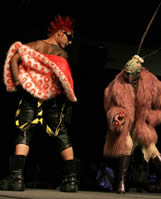 Brandon Porter photo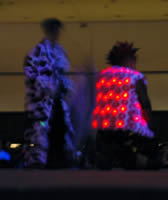 Jordan Schilling photo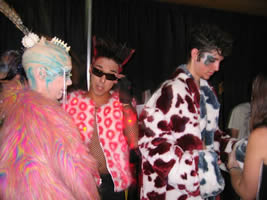 Sterling Ely photo
---
The show also featured two futuristic lighted evening dresses by Enlighted. Please see this page for more information about lighted dresses.
Alex Kawas photos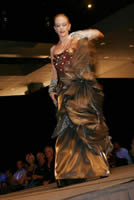 Tiger Lee photo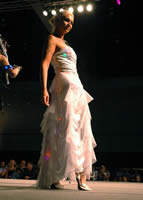 Jordan Schilling photo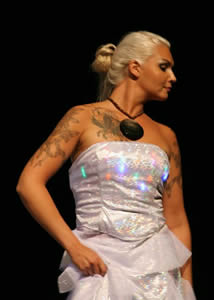 Karl Lang photo
---
These Enlighted pants (with twinkling white lights at the ankles) were paired with a piece of computer generated jewelry by another exhibiting artist.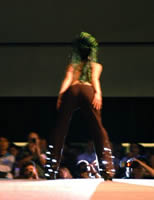 Jordan Schilling photo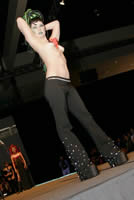 Tiger Lee photo
---
Some lighted hoop performances from the Mutaytor pre-show:
and Mutech, wearing some lighted pieces from Enlighted as part of his ensemble: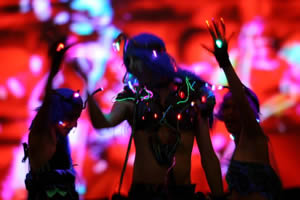 Karl Lang photos
---
---