We've worked on several projects that involved installing LEDs and fiber optics in artificial flowers, with gorgeous results.
white flowers with a combination of blue and white LEDs
two views of the same cluster of flowers, in bright or moderate lighting
strings of roses with white LEDs and fiber optics
illuminated flowers prepared for use in a wedding dress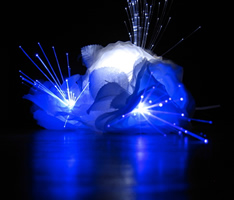 ---
how to order
We offer all kinds of flashy clothes and accessories that will enhance your stage presence. Please check our custom orders page for more information.
---