Flyerman had a new suit made to promote the release of his DVD in 2005, and he also had the initials "DVD" added to his previous coat with red lights. More information about his DVD and the other suits can be found on the main Flyerman page.
---
black flyerman jacket with blue lights

This black denim coat has stripes of blue LEDs mounted in the sleeves, shoulders, and on both sides of the front zipper. If also has white LEDs spelling out "FLYERMAN DVD" on the back, and the initials "FM" on the front.

The lights flash in a variety of patterns, as you can see in these examples:
fast front view (Quicktime, 2.3MB)
mellow front view (Quicktime, 1.9 MB)
pulsing front view (Quicktime, 1.6 MB)
"panic" back view (Quicktime, 3.7 MB)
other back view (Quicktime, 2.3 MB)

other views of the coat

---
DVD initials added to previous coat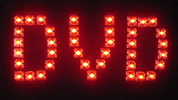 DVD written with square red LEDs mounted in fabric.
sample 'DVD' animation (Quicktime, 3.2 MB)
---
how to order
Do you know someone who could use an "ultimate" light-up suit? This is the place to get one, made to your specifications. Check out our custom orders page, and contact us for a quote today!
---