galaxy girl

Jeannette Romeu, a.k.a. the Galaxy Girl, is an electronic trance diva based in Florida who loves to wear lights.

She puts on a spectacular stage show, full of outrageous illuminated costumes. You can hear her music, and get more information on her website: www.jeannetteromeu.com
Here are samples of some of the Enlighted outfits we've made for her over the years, with links to other pages with detailed descriptions.
---
pink sequined wings with matching lighted bra
- more info here
---
black leather trench coat with blue LEDs
The most elaborate custom piece made for Jeannette so far, this coat has about 300 blue LEDs. (more info on this page)
---
white jumpsuit
At this show, Jeannette is wearing a white jumpsuit covered with white and blue LEDs and EL wire.
---
hot pants and knit cap
These white hot pants have about 24 blue LEDs and 24 white LEDs, arranged in a grid pattern. The knit hat is decorated with 15 white and blue LEDs, and a strip of silver sequins.
Jeannette is wearing the light-up hat, hot pants, and a matching bra in these shots of her on stage. Enlighted also provided the large angel wings with EL wire trim, shown in the photo on the right.
---
black vinyl flame jacket
This black vinyl jacket, made for the Galaxy Girl, is decorated with flame-shaped appliques containing 100 red and gold lights. The lights flicker randomly in a flame pattern. (see the flame effect page for more info)
---
black leather jacket with purple lighted studs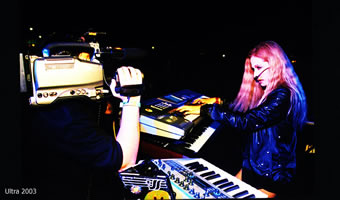 The Galaxy Girl also wears a black leather jacket, similar to the biker jackets shown on this page, or the trench coat shown here, but with purple lights.
---
light-up bras
Jeannette has a variety of light-up bras that she wears in her performances. (see the bras page for more info)
---
nerve suit v2.0
A second version of the illuminated nerve suit was created for Jeannette, as described here.
---
red, white and blue jeans
---
gray tuxedo jacket
We added blue and white LEDs to the edges of this gray tuxedo jacket. The detailed views (on the right) show how the LEDs are mounted in the fabric.
---
gold bodysuit
This skin-tight gold metallic bodysuit, with a hood, is covered with over 100 pulsating gold LEDs.
---
how to order
Please see our custom orders page, or contact us for more information about lighted costumes for DJs, musicians, and other performers.
---