OK, so you're going to a rainforest-themed masquerade party, and your date is wearing a huge pair of illuminated butterfly wings. What do you wear? A light-up gorilla costume, of course!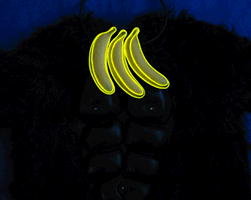 This gorilla suit has blue LEDs lighting the nipples and navel. The bananas, with yellow EL outline, are detachable and can be worn as a necklace or tied around your waist to look like a big, ahem, belt buckle.
The back of the gorilla suit featured a multi-color EL logo for the Z Krewe, the sponsors of the party.
---
how to order
For this project, the client provided the base costume and the bananas, end we added all the lighting. Please see our custom orders page, or contact us for more information about lighted costumes for all occasions.
---