For this costume, we used several hundred warm-white LEDs to build a dress, wings, and a lighted wig base. All of the pieces were lit up with a subtle random twinkling pattern.

In the wings, the lights were aimed sideways, between two sheer layers of fabric, to create a nice diffused effect.

The lights in the dress were mounted on the outer face of a spandex shell, and the connecting wires were concealed behind another layer serving as a lining. The client added sheer decorative materials over the top layer to complete the look.
front and side views of the lighted layers in a dark room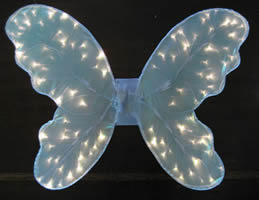 This project was commissioned by Harrods of London, as part of a holiday display.
---
how to order
Please see this page for other examples of lighted wings.
We offer all kinds of flashy clothes that will enhance your stage presence. Please see our custom orders pages for more information.
---