Opening April 2006 at the Hilton Theatre Broadway, in New York, NY, Hot Feet was a new dance musical set to the music of Earth, Wind, and Fire. Enlighted created lighted red shoes for the show (for the "enchanted" aspect of the storyline), as well as a cape with lighted footprint effects running around the outside.
Miniature red LEDs were mounted in a fabric covering for the shoes, and the intermediate spaces were filled in with rhinestones.
Views of a show in dim lighting, and in bright lighting after the rhinestones were added. Animated view of the shoes: clip 1
Other examples of lighted shoes can be seen on this page.
---
Enlighted also created an elaborate cape covered with lighted footprints, as shown below.
front view, back view, and front view in bright lighting
closer views of several of the footprints, which were created from red EL wire (double thickness around the outer edge)
Cape animation: front view, back view
Other examples of lighted capes can be seen on this page.
---
From the official website: "HOT FEET is an infectious, heart-stopping, new dance musical created by the Tony-nominated Maurice hines and the legendary Earth, Wind and Fire's very own Maurice White. HOT FEET features the music of EW&F, including such hits as After The Love is Gone, Boogie Wonderland, Shining Star, and September, in addition to six all-new original songs written by Mr. White for this production."
"HOT FEET is a story of burning ambition and the price of fame as told through Kalimba, a beautiful, driven young dancer on a fast track to startdom. But Kalimba discovers the road to success is not how she'd imagined ... "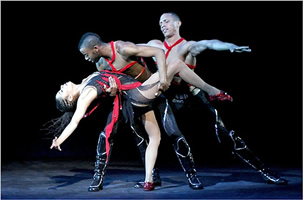 photo by: Sara Krulwich/The New York Times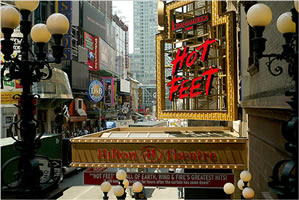 Please see the official show's web site for more information: http://hotfeetthemusical.com
---
how to order
We offer all kinds of flashy clothes that will enhance your stage presence. Please see our custom orders pages for more information.
---