incubus

---

Light Grenades Tour

US tour January - February 2007
International tour starting March 2007

For more information, please see the band's official site, http://www.enjoyincubus.com.
Enlighted was commissioned to create gloves with ultra-bright white LED lights on the palms and fingers. Brandon Boyd (lead vocalist of Incubus) wears these on stage during "Sick Sad Little World".
The gloves can be operated in different modes - Brandon uses them to illuminate himself and other band members when the stage is dimly lit, and to send bright beams of light across the audience.
Brandon on stage aiming the lights on his palms outward,
and a dark grainy photo where he aims the lights at himself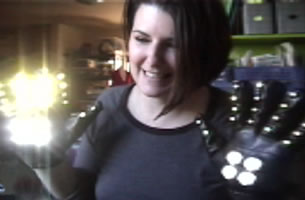 Janet plays with the gloves before sending them away
The gloves are getting great reviews (along with the rest of the show!) on several fansites ~ see incubus-online-view.com, for example. There are links to many more pictures of Brandon wearing the gloves:
from fans goosenesque and ajrm116 (thanks for the great pics!)
UPDATE: From the Incubus online forums: "the magical amazing brandon hands thread"
more great pictures!
---
some video clips from their San Diego show on January 12, 2007
(including audio, will launch in a new window)
video clip 1 - video clip 2 - video clip 3
---
how to order
We've created a variety of lighted gloves and handpieces - please see this page for more examples, or this page for a guide to prices for custom lighted gloves.
If you're interested in increasing your visibility on stage, please see our custom orders pages, or contact us for more information about lighted costumes for musicians and other performers.
---