"Jimmy Light Show", as he is known in the Toronto party scene, has been a big fan of Enlighted for many years, and has accumulated a wardrobe full of our custom-made flashy clothes.

His enthusiasm is equally electrifying!

An aspiring wrestling manager, he was once picked out of the crowd, and invited to join US Champion John Cena in the ring at the end of a WWE match. You can read more about his experience on this page.
Here are some of the Enlighted outfits and accessories we've made for him over the years, with links to other pages with detailed descriptions.
---
light-up wrestling belts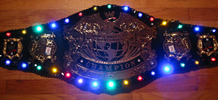 Jimmy's signature piece is an illuminated wrestling belt, worn over his shoulder. (more info on this page)
---
light-up capes
A natural match for the wrestling belts, Jimmy has several light-up capes in his collection. (more info on this page)
---
leather shorts
These black leather shorts have 20 blue LEDs, arranged in a grid pattern on the front.
---
vests
The vest on the left is decorated with green EL wire, reading "Jimmy Light Show" on the back. The gold vest on the right is decorated with 20 gold LEDs that are animated in a chasing pattern. Examples of other Enlighted vests can be seen on this page.
---
mini-jim ventriloquist doll
Introducing "Mini-Jim" - a ventriloquist doll clone of Jimmy Light Show, with his own lighted clothes and wrestling belt. (more info on this page)
---
party pictures
Here are some photos of the lights in action, at various parties since 2003.
---
how to order
Please see our custom orders pages, or contact us for more information about lighted costumes for DJs, musicians, and other performers.
---