The effects of these laser gloves are even more dramatic when you see them in person, but we'll attempt to capture the basics here.
We've made several versions of these gloves, including a pair created for Las Vegas magician Jeff McBride, and another pair worn by Jason Derulo at the MTV Video Music Awards in 2010.
We started with a pair of black leather and spandex athletic gloves, and built fabric channels to hold the lasers on the backs of the fingers (four per hand). Then, rather than using the typical single-beam type of laser, we installed green lasers with special optics that split each beam into thousands of points, so that each finger produces a full starfield of lights. These optics are available exclusively from Bliss Lights, and installed into gloves by Enlighted.
You can create a variety of breathtaking effects by swinging your hands around, or moving your fingers relative to each other. Video clips with sample animation: clip 1, clip 2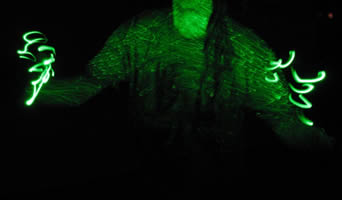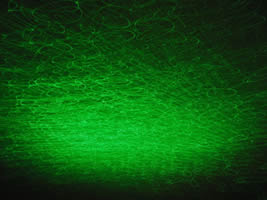 ---
how to order
Laser gloves are only available by custom order, with a typical lead time of 4-6 weeks (rush orders might be possible, at additional cost). Pricing is based on the type of laser and the number of lasers per hand, and is usually in the range of $300-$400 per laser.
Please see our custom orders page for more information.
---