This full-body suit, with matching light-up pants and jacket, was made for a client who wanted to light up the streets at Mardi Gras. Apparently, he was so popular, people gave him strings of beads to get him to pose for pictures!
Hundreds of blue, green, white, and red LEDs were used to cover the arms, legs, front, and back of this outfit. The long sleeved version (shown here) has about 400 lights total. A slightly simpler version was also made, with a sleveless vest top and 300 lights.
The lights were programmed to flash in a variety of patterns, including a full downward cascade, and side-to-side movement of stripes. Each LED was mounted within a diamond-shaped fabric patch, and sewn in place.
Keeping up with the spirit of Mardi Gras, this outfit also featured "runway" style red lights on both sides of the pants zipper. These could be activated with a separate switch, as needed.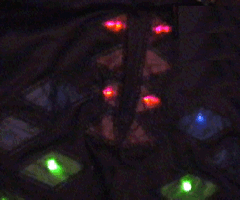 animated running lights on the zipper
---
how to order
Here at Enlighted, we've made all kinds of full-body light-up suits similar to this one, including the white vegas suit and the clear vinyl music-reactive suit. Full body suits typically cost several thousand dollars (depending on the number of lights), and require advance notice of several weeks.
If you'd like to enhance your own stage presence with light-up clothing, we're eager to help you realize your dream.
Please see our custom orders pages for more information.
---