This is an example of one of our more elaborate custom lighted hat projects, imagined by a client, and built by Enlighted. It is a tall black cowboy hat bearing the words "it's all about ME", with flashing red arrows, all brightly lit with LEDs.

The upper portion with the "it's all about" script lettering is a handcut vinyl stencil with white LED backlighting.

The word "ME" is created with warm-white LEDs, with a yellow tint reminiscent of old-fashioned incandescent light bulbs. The retro-marquee feel is continued with exposed red LEDs in the arrows.
front and side views of the hat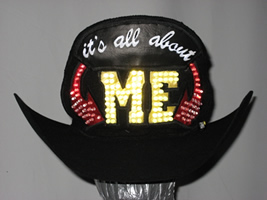 front view of the hat in bright lighting
closer views of the front - note the difference in color between the
standard cool white (blue tint) and warm white (yellow tint) LEDs
Sample animation: clip 1, clip 2
---
how to order
We create all kinds of custom light-up hats, and will also add lights to a hat of your choice. Please check our custom orders pages for more information.
---