---
Enlighted was commissioned to create illuminated costumes for M.I.A.'s performance on the main stage at the Coachella Music Festival on April 18, 2009. We installed EL wire on a variety of pieces of clothing for lead singer Maya Arulpragasam and five backup dancers, as well as accessories for several other members of the band.
Maya's first outfit included a military-style hat, sash, epaulets, and glowing "medals", all created with EL wire. Then she changed into a more casual t-shirt and sunglasses with EL wire accents. Both outfits included EL-outlined acid wash jeans, wristbands, and shoes.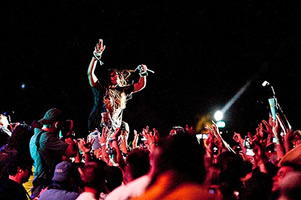 ---
The dancers' suits were outlined in multiple colors of EL, with an intentionally "loose" aesthetic that made them appear to be live dancing versions of a sketch.
Sample video from rehearsal (watch here or on youtube).
---
our view from the side of the stage during the performance
Video from the performance (watch here or on youtube):
More photos of the dancers' outfits and accessories: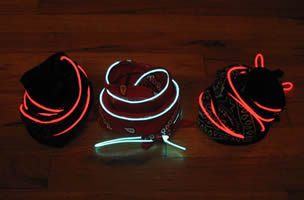 ---
how to order
We can install EL wire on clothing using a variety of techniques that achieve the best durability possible, although please note that EL wire is relatively fragile and many designs will not be suitable for extended everyday use (especially pants or other garments that have regions that must flex repeatedly when worn).
Pricing is based on the length of wire and the type of installation; designs that cover the entire body with a high density of lighting typically cost several thousand dollars.
Please see our other pages describing the limitations of EL wire, our process for custom orders, or contact us for more information.
---