Mutech and the Femtechs, ambassadors of mutant technology and sidekicks of the Mutaytor, have adopted lights as part of their "normal" onstage apparel. Described as "mad scientists by day, teen ravers by night", you can learn more about them on their site, here.
Here they are, as seen in the 2005 Cyberfashion Show at SIGGRAPH in Los Angeles, CA.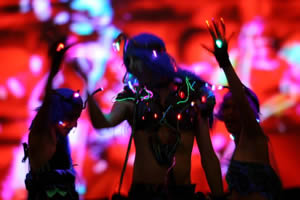 Karl Lang photo
Enlighted supplied the lighting that went into the bra in this outfit. It is essentially a star-shaped arrangement of LEDs and flexible wires, with pre-programmed animation and a power supply (a 9V battery in this case). This wire harness was then embedded in a molded latex costume.
Some images of the bare electronics:
Quicktime files with sample animation (will open in a separate window):
Sample 1 - slower spinning (1.4 MB), Sample 2 - faster spinning (820 KB)
isa gordon (a.k.a. psymbiote) and Mutech, as seen at Xara Dulzura 2005
---
how to order
We offer all kinds of flashy clothes that will enhance your stage presence. Please see our custom orders pages for more information.
---