cirque USA

Enlighted has made many costumes for Cirque USA (formerly known as the New Vision Cirque and Dance Company), an exceptional performance troupe based in Orlando, FL.

One of their shows, The Electric Cirquit, features illuminated costumes, such as those shown to the right and below.

Please see their website www.cirqueusa.com for more information.
Excerpt from a New Vision Cirque promotional video which includes Enlighted costumes: Quicktime movie: clip 1 (3.4 MB)
Still shots from the video:
roller-blading Dude in Tubes, illuminated nervous system
---
twinkle

Designed to be worn during rhythmic gymnastics routines, the "Twinkle" costume consists of a silver metallic dress with flared skirt, and matching gloves and spats.

The entire outfit is covered with blue and white twinkling lights.

For more information, please see this page.
---
dudes in tubes v2.0

Inspired by our original Dudes in Tubes costumes, these revised costumes were made for Cirque USA.

For more information, please see this page.
---
illuminated nervous system

Our original illuminated nervous system costume was also adopted by Cirque USA, and it continues to appear in performances after 10 years of use!
---
promotional brochure for the Electric Cirquit show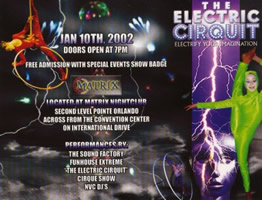 promotional flyer for a performance in January 2002
---
more performance photos for Cirque USA:

---
how to order
Please see our custom orders page, or contact us for more information about lighted costumes for DJs, musicians, and other performers.
---