We've created all kinds of light-up pants, ranging from simple and subtle to simply outrageous! Some of them are designed to go with a matching jacket or top), or they make quite a statement on their own. This page presents some examples of pants we've made in the past. Please see our custom design page for pants for information about pricing.
---
flame pants
Liar liar pants on fire! Our personal favorite, these pants make it look like you're burning up the dance floor, literally. Flickering lights creep up from your ankles, as if you're standing at the base of a campfire.
How do they work? Red and gold LEDs are mounted in the flame-shaped appliques. All wires are concealed, and the batteries (a 4-pack of AAs, in this case) are carried in a pager-style pack at your waist.

This pair contains about 100 LEDs. We can also make flame pants with fewer lights (10, 20 or 30 lights per leg).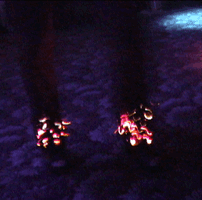 ---
purple pants with deluxe ankle lights
The lights on these pants flicker in a random pattern, similar to the flame pants, but the LEDs are white, blue, and purple. There are about 25 lights per leg. These were designed as part of a set, with matching bra and belts.
Judy models the purple outfit (also seen in the 2004 SIGGRAPH Cyberfashion Show)
Quicktime video of animation: clip 1 (2.1 MB)
---
chasing LEDs down pant legs
These pants, originally created as part of the Flyerman light-up tuxedo, contain about 20 white LEDs that light up in a chasing pattern down the legs.
We can reproduce this effect with fewer lights (10 or 15 per leg), or with as many as 30 lights per leg, with approximately 1 inch spacing.
The lights can be permanently installed, or they can be mounted on detachable strips.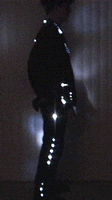 ---
pants with EL wire trim
Stripes of light can be added to pant legs with EL wire, as shown in these examples, although this type of design will be more fragile, particularly in the area where the knee bends.
---
how to order
So, do you want some fancy pants, fancy pants? We typically do not carry any ready-made lighted pants in stock, but we can create some as a custom order, in your choice of size, style, and light arrangement.
Please see our custom pants design page for pricing details, or see our other custom orders pages for more information about the lighting options that we offer.
---