Polyester Express is a 10 piece (or more) show and dance band that provides a fully costumed, choreographed, polished journey into the days of yesteryear, with a taste of today.

They have thrilled party-goers worldwide, and have also been nominated for 'Best Band in San Diego' by the People's Choice Awards.

For booking information, please see their website: www.polyesterexpress.com
Enlighted created every piece of clothing in the picture above, including the sequined jackets, hats, headbands, and Kim's dress in the center.
We also created these vests with wavy sequin lines, and rainbow stripes of fringe, for the sixties segment of their "decades" show.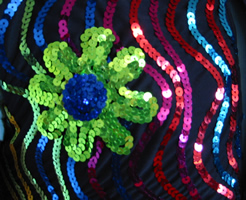 We didn't install any lights in these projects, but we include them as examples of our custom sewing work.
---
how to order
Due to high demand for Enlighted illuminated clothing and costumes (the main focus of our business), we are no longer accepting orders for custom sewing projects that do not involve lighting.
Please see our custom orders page, or contact us for more information about lighted costumes for DJs, musicians, and other performers.
---