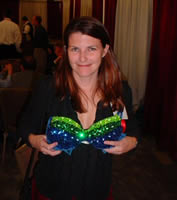 Ask anyone who attended the 2004 Intertech LEDs conference what they remember most about the event, and the most frequent answer is likely to be the moment when one of the speakers revealed she was wearing a bra decorated with LEDs.
Despite this titillation, Janet Hansen, president of Enlighted Designs Inc, had a serious purpose in describing her experiences as an early adopter of LEDs in lighted clothing, which has already proved popular with performers, promoters and clubwear enthusiasts. More mainstream consumers, having seen various novelty products, are hungry for real quality and style, said Hansen.
Although high-brightness LEDs are the most suitable form of lighting for clothing, there are a number of concerns. For example, consideration has to be given to how to connect the LEDs; fine stranded wire turns out to be the best option. "Broken wire failures are common if insufficient slack is provided to compensate for fabric stretch, or if heavy components such as batteries are allowed to swing freely," added Hansen. "Also, battery contacts can be shorted by keys or coins, or corroded by excessive sweating."
Lighted clothing was one of many applications for LEDs discussed at the conference, which commenced with a market overview from Jagdish Rebello of iSuppli Corporation, and also included updates from leading chip makers such as Cree, Nichia and Osram Opto Semiconductors.