These braided dred-style hair extensions feature glowing red LEDs at the ends. The battery pack and on/off switch are hidden in a small fabric pouch at the top, where the braids join to a spring-loaded hair clip. The wires that run down to each LED are hidden inside the wrapped yarn.
almost natural looking!
views of the braids in bright and dim ambient lighting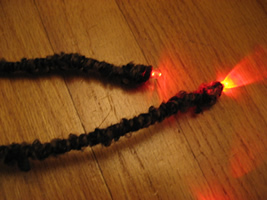 closer view of the ends of two braids
closer view of the hair clips, battery pocket, and switch
---
how to order
This set of dark brown braids with red lights was made as a custom order - we don't carry them in stock, but can make similar pieces to your specifications. For example, you can choose the braid length, thickness, and light color.
We've also made many other types of lighted hair, headpieces, and hats. Please see our custom orders page for more information.
---