---
Enlighted was commissioned to create a variety of lighted garments for R. Kelly as Mr. Show Biz in The Light It Up Tour, which was performed to sold-out theaters across the US during the spring of 2006. The entire performance is now available on DVD.
| | |
| --- | --- |
| The basic concept was to have an "invisible man" effect, with lighted hat, tie, gloves, and shoes, but with the rest of the body being completely hidden. This image was used as the identifying logo for the tour, on posters, t-shirts, and tour jackets, as well as many other items. | |
R. Kelly opens the show wearing this suit, walking up the stairs to appear on an otherwise dark stage. Hand gestures and sound effects are coordinated to activate sets of other marquee-style lights that surround the stage and a series of steps.
some still shots from the opening scene, video clip from the DVD intro
scenes of R Kelly backstage, just before starting the concert, video clip from the DVD
R Kelly explains the concept behind his Mr Show Biz character and the lighted costume,
video clip from DVD
---
animated clip of a lighted glove, demonstrating its flexibility
Enlighted also installed lighting in an 8' wide roll-up banner that was used in the "Happy People" finale, when audience members were invited on stage to dance.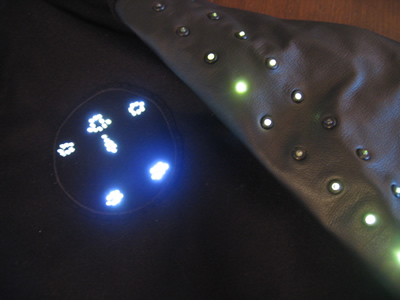 animated clip showing the flashing lights on the sleeves
---
More information is available on the artist's official site: http://www.r-kelly.com
---
how to order
We've done many other types of hats, ties, gloves, and shoes (please follow those links for examples).
If you're interested in increasing your visibility on stage, please see our custom orders page, or contact us for more information about lighted costumes for musicians and other performers.
---