This dress was sent to us to be Enlighted. We responded by adding strings of miniature red LEDs along the hem of the skirt and the edges of the rose-shaped detail on the hip.
When activated, the lights produce a steady red glow. The battery pack and on/off switch are hidden in a pocket under the skirt.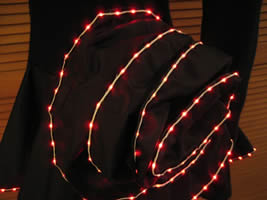 ---
how to order
We offer all kinds of flashy clothes that will enhance your stage presence. Please see our custom orders page for pricing guidelines, or contact us for more information.
---