Here at Enlighted, we've added lights to many kinds of footwear, including dancing shoes, boots, athletic shoes, and even ice skates. In most cases, the lights are installed in flexible fabric or leather covers, or trims that are mounted on the outside of the shoes.
---
r kelly's lighted shoes as mr. showbiz - more info here
lights were mounted in rubber grommets in these flexible fabric shoe covers
---
shoes for mishon's music video - more info here
---
lighted dance shoes for 'hot feet' the musical - more info here
---
We've created several pairs of lighted shoes for The Haygoods, a family of entertainers based in Branson, Missouri.

For this project, the LEDs are mounted in leather covers that are worn over normal tap shoes, and can be moved to a new pair as the shoes are worn out.
---
These custom wrestling boots were illuminated by adding a lighted panel to the front, which is held in place by the laces.
The red and black pair on the left has 10 rainbow-colored lights per boot, and the black boots have strips of 10 red, white and blue LEDs.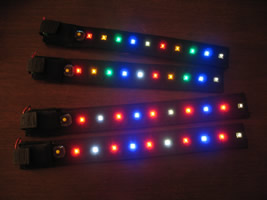 Quicktime movies with sample animation: Boots (2_MB), Strips (1.2 MB)
The boots are part of Jimmy Light Show's wardrobe, which is described in more detail on this page.
---
Enlighted client Burghman has also had lights added to a few pairs of athletic shoes.
In this example, super-bright white and gold LEDs have been mounted in a layer of black suede that covers the top of the shoe. Also, note that each shoe is powered by a 9V battery, held in an elastic pouch on the back.
---
basketball shoes with orange EL trim
---
In this example, the lights are attached on the outer surface of the shoe (since this is a hand-made custom modification). We do not produce shoes with lights built into molded parts of the heel or sole - you'll need to find a mass produced version if you want that type of construction.
---
how to order
To ensure a proper fit, we recommend that you select the plain shoes yourself and send them to us. Lights can be then be added to the outer surface, although there are several practical limits to take into consideration when planning the design and the location of batteries and switches. Shoes take a lot of abuse!
We typically do not recommend putting the custom hand-made electronics that we offer inside the sole of a shoe, since the installation process would compromise the durability of both the shoe and the lighting elements. That type of lighting must be installed at the factory level.
Please see our custom orders page for more information.
---