university of dayton flyer pep band

Enlighted created a lighted warm-up suit for the leader of the University of Dayton's "Flyer Pep Band" as well as a variety of other lighted accessories that are used to energize the crowd at their basketball games.
The lighted suit contains over a hundred red, white and blue LEDs in stripes on the arms, legs, and torso, as well as lighted logos and text. A control switch near the wrist allows the wearer to change between a variety of high-energy flashing patterns.
back view of lighted suit in dark and moderate ambient lighting
Sample animation clips: front view, back view
---
We also created several dozen lighted hats for the members of the Pep Band, and lighted fabric covers that decorate the ends of the tubas.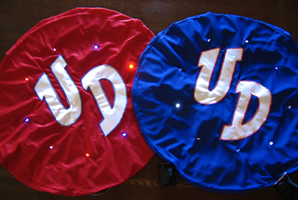 ---
For more information about the Flyer Pep Band, and more pictures like these, please see their website: http://campus.udayton.edu/~pepband/index.html
---
how to order
We offer all kinds of flashy clothes that will enhance your stage or arena presence. Please see our custom orders pages for more information.
---