'what if?' lighted suit jacket
The back of this suit jacket was decorated with the phrase "WHAT IF?" written with embroidered patches, and illuminated from within with white LEDs. The LEDs are mounted behind a thin layer of padding to help diffuse the light more uniformly.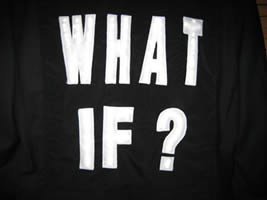 ---
how to order
We offer all kinds of flashy clothes that will enhance your visibility, wherever you go. Please see our custom orders page for pricing guidelines, or contact us for more information.
---